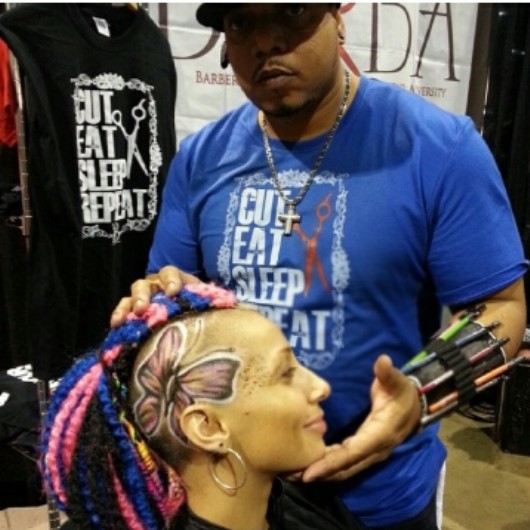 My name is Damon Redding a Master Barber/Educator/Barber Artist, with almost 20 years in the barbering industry. Throughout my career I have learned and mastered the many different levels of barber artistry and have also become a fan to its art. Throughout my plight to become better and inhance my work , I noticed that color enhancement to a design added that extra "pop" to bring a design to it's next level. I tryed many different products I thought would work to achieve my desired effect, and still wasn't satisfied. While at a trade show I saw the Graffetch trade booth and decided to try the pencils. It was love at first swipe! The vibrant colors,texture and blending abilities were the combination I needed to bring my artistry to the next level. Now that I had the missing element to display my vision ,I began competing throughout the country and begin teaching about barber artistry using Graffetch products. One of the things I like to tell my classes is; Art is an expression of ones inner self and how he/she views life. It is a expression that can be shared through words, paint, pencils and even clippers...but with Graffetch ,you have the ability to add vibrancy to your vision.

I've been using Graff*Etch for several years now and I can honestly say it's the best Hair Pattern Products in the Market today. It's not like your usual eyeliners that are stationary and boring. With Graff*Etch you can blend multiple colors and it's formulated to last long and it can be used on hair and scalp. Graff*Etch is easy to use and will not drip or run due to sweat, etc. Each pencil comes with its own sharpener, so there's no worry as to mixing colors caps. The quality of the product and the fact that it's hypoallergenic is wonderful factor because it minimizes my concern for sensitive skin and enables me the ability to focus on enhancing my design. I can focus on overall client satisfaction without having to worry about my client having an allergic reaction. That provides a major relief! I've been privileged to take home first place prizes using Graff*Etch as well as becoming featured in several promotional material magazines, press releases, advertisements and more. Graff*Etch is a great tool that I personally use daily to excite and interact with my clients. It truly sets you apart from "Traditional Barbering". Not saying there's anything wrong with traditional barbering but Graff*Etch provides a unique niche that I believe is one of the best ways to surprise/ interact with your community within. Graff*Etch is for everyone! As the barber of many professionals (including but not limited to; pro athletes, international artist, etc.) I would highly recommend learning how you could add to your services and truly make your barber shop/salon a custom place for everyone to enjoy. For more product information or to learn/attend classes on how to use Graff*Etch, contact the Graff*Etch Team today! You will be glad you did.
Jonathan Cifredo Traveling Master Barber | Educator | Salon Owner


I've been enhancing my hair designs with color for about 7 years now at first I had no clue what barbers where using so I tried all kinds of things, oil pastels, markers, eye liners, lip liners, and it was never really the look that I was going for because list like everyone else that was using color to their designs it looked faded and just didn't pop the way I envisioned it and wanted my work to look. Until I was introduced to Graff-Etch quality pencils by Mrs. Linda Eisner. The first time I used Graff-etch pencils it changed my life. It made my hair designs look like master pieces because of how vibrant the colors are and how easily they blend into each other allowing me to make my art look life like. Graff-etch pencils have helped make my hair art and myself stand out from all the other great barber artists and given me the platforms I now work for like being one of the members of an elite hand picked team if barbers and stylists called XOTICS by Curtis Smith who is the person I looked up to growing as a young barber, I now travel all over the U.S.A educating on a tour called Xotics Hair Battle Tour, I've been able to brand my self the 6ixthelement and created a movement and clothing line called BCML "Barbering Changed My Life".
Jesse Lima 6ixthelement

I am truly grateful for the Graff Etch Pencil. In my opinion it has really made a positive impact in the Barber and Beauty INDUSTRY. I absolutely love the colors and the smoothness of the tip, but more importantly I love how well Graff Etch work so well with my product "Magic Dust" I Inspect What I Expect in my business and Graff Etch helps me keep my clients coming back!
M.C. Razor

When I'm out on tour or back in the shop Graffetch Pencils are My teams Go To .... They take are designs and bring them to life. When We do logos for companies it is the color that finishes the work ....
Steve Vilot
Barber Authority
Sim's Barber Shop
As a fan of the ARTS, I love GraffEtch pencils because they serve as an enhancement tool for Barbers to highlight their creativity thru color!
LaDon Quivette
President
OOAK, LLC
305.546.4377
I love GraffEtch because the pencils add flare to my designs and allow me to express my artistic side.
Sol De Jesus